2022 Volvo XC40: Interior, New Features & Colors

Shop 2022 Volvo XC40
Let the 2022 Volvo XC40 SUV take you confidently to all of your favorite places. This innovative compact SUV delivers premium comfort, elite efficiency, and plenty of power within a smaller frame. Learn more about what this car carries over from previous popular models, what's new for 2022, and more. Adventure is waiting for you behind the wheel of the 2022 Volvo XC40.
---
Create the 2022 Volvo XC40 Interior You Want
Families love piling into this model for road trips because everyone can stay connected and protected on the road. Make use of the multiple power outlets, panoramic roof, and navigation system that come standard with every 2022 Volvo XC40. Build the cabin you want by adding the Advanced or Climate package, then pick your favorite out of our available interior color options:
Curious about the 2022 Volvo XC40 changes inside the cabin? This year's model adds wireless smartphone charging capability to the R-Design and Inscription trims. You'll be able to connect your favorite podcasts and playlists to the multi-speaker setup and keep your phone plugged in effortlessly while driving in this modern design.
If you'd like to know more about the vehicles we currently have available, browse our new Volvo specials. Our team of vehicle experts will clue you into cars with the features you're looking for, and they'll let you know which models are already being enjoyed by drivers similar to you.
Explore Our 2022 Volvo XC40 Price and Trim Levels
The 2022 Volvo XC40 redesign is ready to make an immediate impact on your driveway. Check out the following trim levels and contact our showroom if one happens to catch your eye. They'll have your desired trim model ready for a test drive when you arrive at our local Volvo dealership.
2022 Volvo XC40 T4 Momentum
2022 Volvo XC40 T4 Inscription
2022 Volvo XC40 T4 R-Design
2022 Volvo XC40 T5 Momentum
2022 Volvo XC40 T5 Inscription
2022 Volvo XC40 T5 R-Design
In addition to all of the excellent 2022 Volvo XC40 trim levels in our inventory, we also have the 2022 Volvo XC40 Recharge pure electric available. If you've been considering an electric car, ask our team about the impressive range and relentless power you'll get with this all-electric alternative.
Volvo Cars has made a clear and consistent commitment to making the world less reliant on fossil fuels, and both of these efficient models reflect that commitment in 2022.
Which of the New 2022 Volvo XC40 Colors Will You Choose?
There are many different choices for 2022 Volvo XC40 exterior colors. If you like adding a personal touch to your car's style, you can do so by choosing from the exceptional exterior colors available for this model. Wrap your car's athletic contours and sleek frame in one of the following available exterior paint colors:
Black Stone
Onyx Black Metallic
Denim Blue Metallic
Fusion Red Metallic
Pebble Grey Metallic
Thunder Grey Metallic
Glacier Silver Metallic
Sage Green
Crystal White
Once you're done with the outside, set up your car's seating arrangement on the inside. Choose any 2022 Volvo XC40 configuration you want, and you'll have plenty of room for both cargo and passengers inside your vehicle. Folding seats in the rear row open up enough trunk space for suitcases, golf clubs, groceries, plants, and more.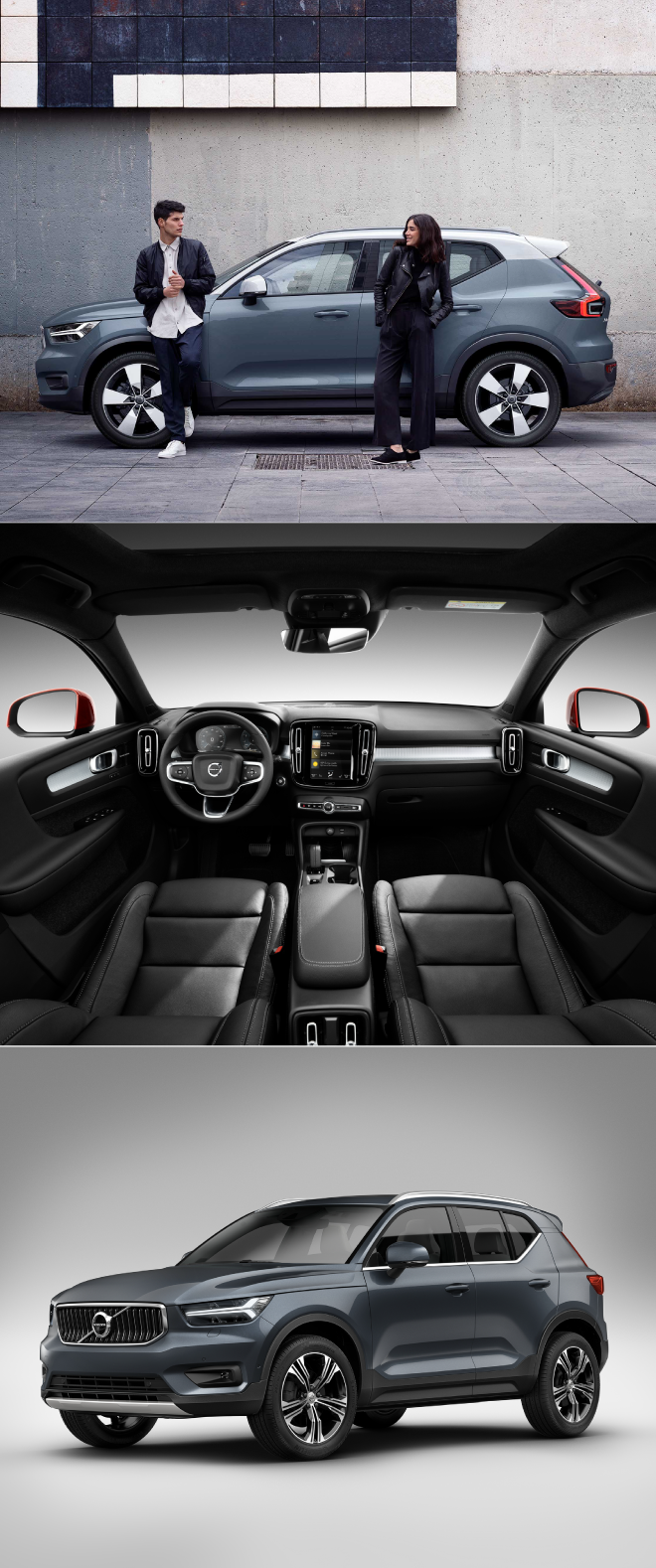 ---
Frequently Asked Questions
You're not the only one who wants to know more about the 2022 Volvo XC40 SUV. Here are some of the most common questions we get from drivers who want more details about this year's exciting Volvo crossover SUV redesign.
How much is a 2022 Volvo XC40?
Browse our inventory now, and you'll be able to view our available prices for the 2022 Volvo XC40. Our vehicle experts will help you put together the car you want while staying within your budget. They'll also let you know the price for adding packages and standalone features like a power-operated liftgate.
Does the 2022 Volvo XC40 require premium gas?
Because the 2022 Volvo XC40 comes with both the T5 and T4 engine options, the answer depends on your choice of engine. If your Volvo XC40 model has a T4 engine, your engine's reliability should not be affected as long as you use 87 octane1 or higher. However, 91 octane1 premium fuel can help produce optimum performance in T4 engines, and a minimum of 91 octane1 is required for T5 engines. T5 engines run best when you use AKI 93.
Does the 2022 Volvo XC40 have Apple Carplay®?
Yes, the 2022 Volvo XC40 has Apple Carplay®. Turn on your new favorite song to get you going on a dreary morning, or settle into an engaging podcast as you start a long ride.
Change Is Here: 2022 Volvo XC40
Families and solo drivers love the versatility of the 2022 Volvo XC40. Designers aimed to create an all-encompassing vehicle that would make you feel at home while out on the road. The result was a car that gets to know you a little better each time you pull out of the driveway.
Our Volvo dealership is proud to be able to deliver elite SUV models that make luxury features accessible to those who want durability and reliability in their next car. We look forward to welcoming you into our dealership and introducing you to the newest Volvo crossover SUV in a long line of legends.
---
Make an Inquiry
---
1AKI (Anti Knock Index) is an average value of RON (Research Octane Number) and MON (Motor Octane Number) - (RON)+(MON)/2