Audi Q7 Vs. Volvo XC90 Comparison: Specs, Engine, Interior, Towing, And More

If you are debating the Audi Q7 vs. Volvo XC90 three-row SUVs, you've stopped by the right place. These luxury vehicles have a lot to offer families of up to seven people, but we'll zoom in on some of their differences below.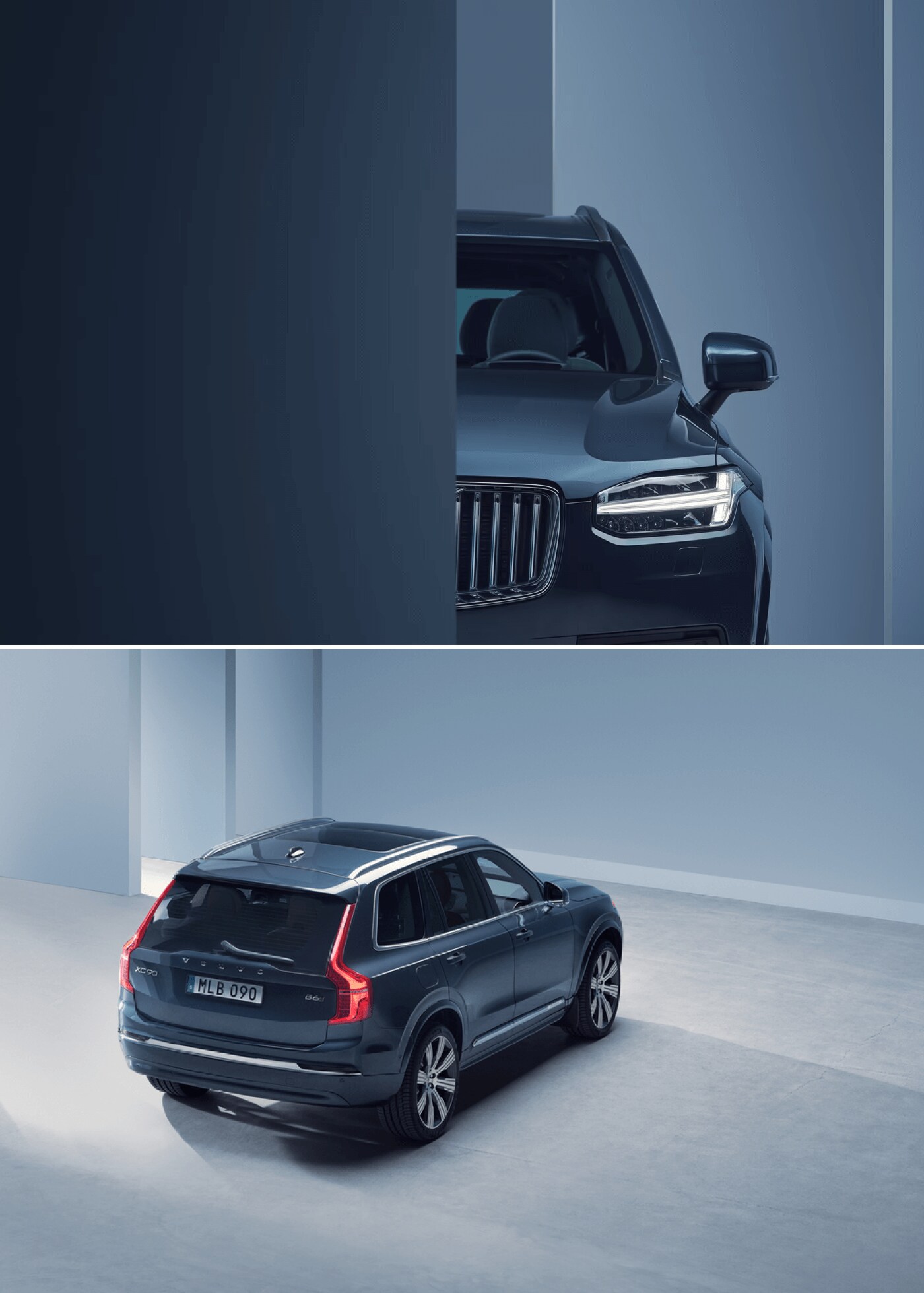 Audi Q7 vs. Volvo XC90 Performance and Specs
When you go for the Audi Q7, you can choose between two powertrain options. The first is a 2.0-liter four-cylinder engine combined with 12-volt hybrid technology, giving you 261 horsepower. This standard engine is paired with an automatic transmission and AWD. This will allow you to tow 4,400 pounds when your vehicle is properly equipped. The other option is a turbocharged 3.0-liter V-6 matched to a 48-volt hybrid system that produces 335 Audi Q7 horsepower and an EPA-estimated MPG of 18/22/20 (City/Highway/Combined).1
Similarly, the Volvo XC90 also has two mild hybrid powertrain options: the B5 and B6. The B5 contains a four-cylinder direct injection turbo engine and delivers 247 horsepower. It, too, comes with an automatic transmission and AWD, but it has superior towing capacity to the Audi Q7, enabling you to tow up to 5,000 pounds when properly equipped. The B6 is more powerful than the B5, being both turbocharged and supercharged, and offers you 295 horsepower. It has better fuel economy than the most powerful Audi engine, making an EPA-estimated 20/26/22 MPG (City/Highway/Combined).2
However, the real winner in the Audi Q7 vs. Volvo XC90 race is the Volvo XC90 Recharge. This is a plug-in hybrid version of the former SUV, making 455 Volvo XC90 horsepower and offering superior fuel economy, including a pure-electric range of 32 miles,3 allowing you to take short trips from home without using gasoline. To learn more about these Volvo XC90 specs, contact our team today.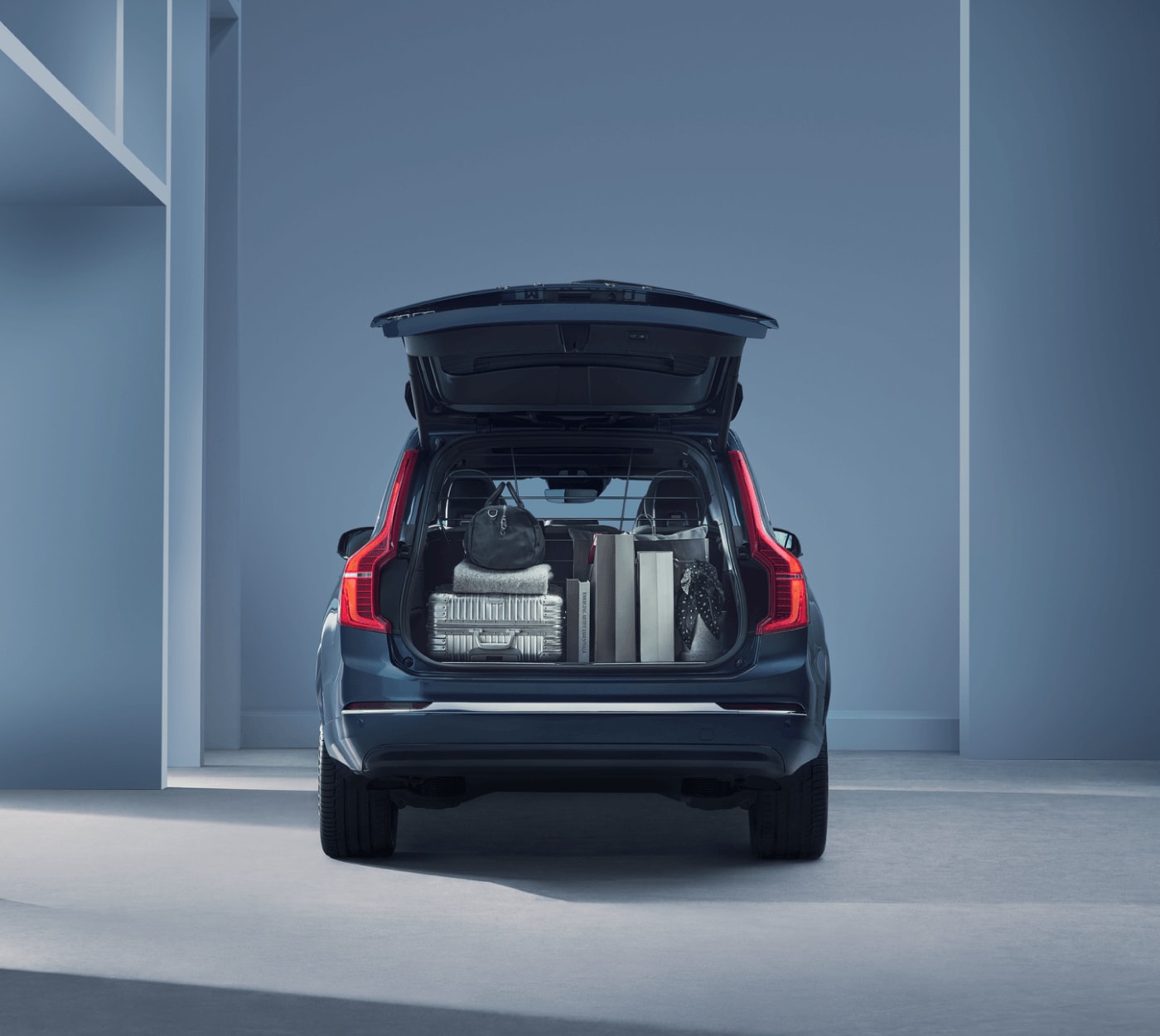 Audi Q7 vs. Volvo XC90 Cargo Space and Dimensions
When it comes to Audi Q7 vs. Volvo XC90 dimensions, the Audi Q7 is longer, coming in at 199.3 inches, while the Volvo XC60 measures 195 inches. However, the Volvo XC60 is wider (79.1 inches without mirrors vs. 77.6 inches) and taller (69.9 inches vs. 68.5 inches tall). You'll also find there is more Volvo XC90 cargo space. At maximum, this SUV can store over 85 cubic feet of belongings. The Audi Q7 cargo space is 69.6 cubic feet when you include the foldable seat area. You can find out more about Volvo XC90 vs. Audi Q7 dimensions, such as how much legroom is afforded you in each of their three rows, at our Volvo dealer in Jacksonville FL.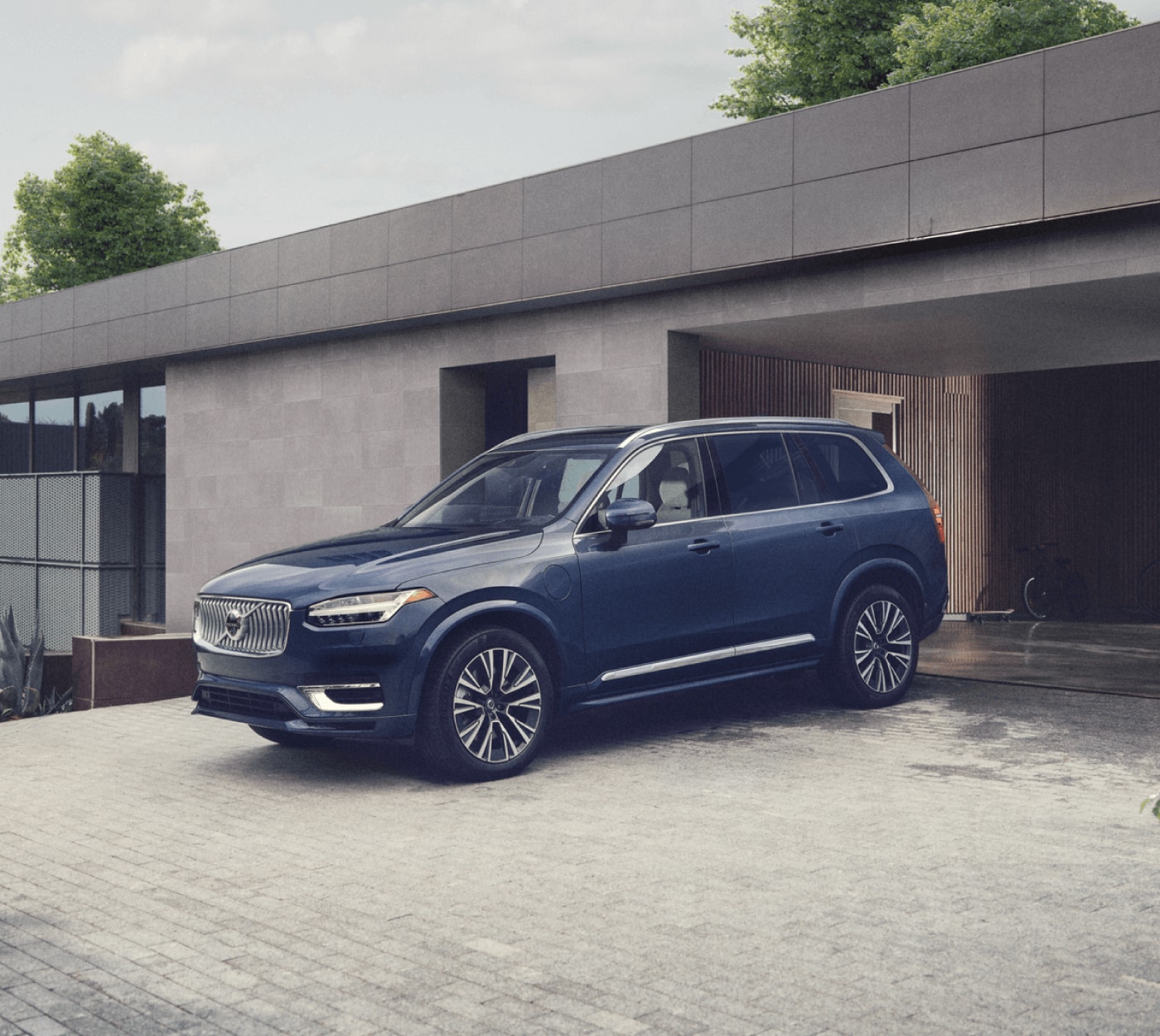 Audi Q7 vs. Volvo XC90 Configurations
The Audi Q7 comes in three trims: the Premium, Premium Plus, and Premium Prestige. You can choose either powertrain option for the first two Audi Q7 configurations; the third trim automatically comes with the more powerful option.
The Volvo XC90 also has three trim levels: the Core, Plus, and Ultimate. You can choose from the B5 or B6 powertrain at all three levels – the Volvo XC90 Recharge has its own trims. You can also opt for six-seater or seven-seater Volvo XC90 configurations. The six-seater is great for smaller families, giving you captain's chairs and more shoulder room in the second row. This provides easier entry to the back row, too.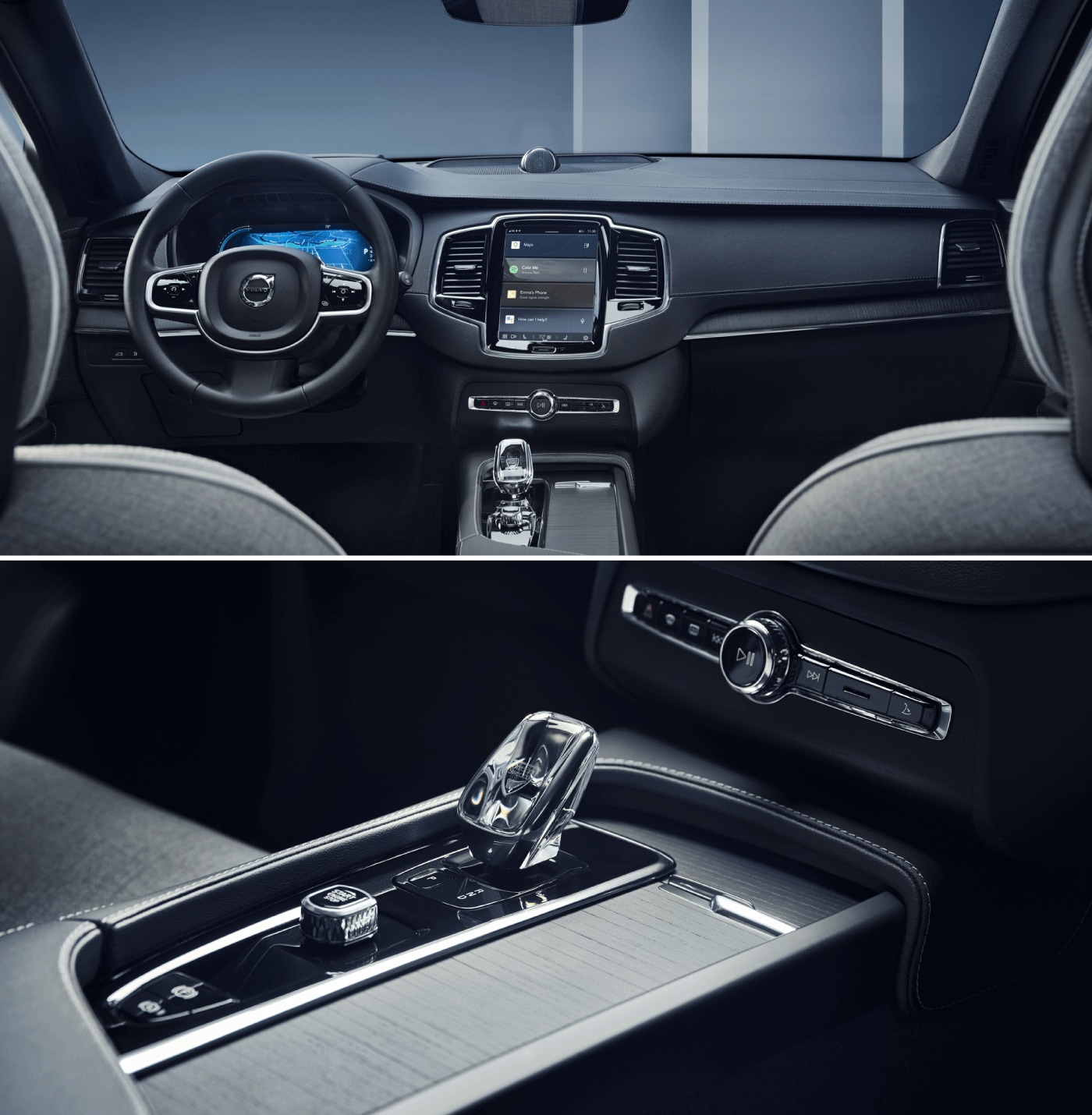 Audi Q7 vs. Volvo XC90 Interior
Entry-level features of the Audi Q7 include a power panoramic sunroof, a rearview camera, heated front seats, and driver-assistance features like lane-departure warnings. As such, you'll find the Audi Q7 interior inviting.
You are also likely to feel right at home in the Volvo XC90. The Core trim is anything but basic. It, too, has a panoramic moonroof, heated front seats, a rear parking assist camera, and lane-keeping assistance. You'll also find Adaptive Cruise Control and Adaptive Power Steering, as well as Pilot Assist. You'll be able to control infotainment features and driver-assistance technology through large displays in the Volvo XC90 interior.
However, these luxury SUVs offer too much to list all of their features here, especially as you go up the Audi and Volvo XC90 trim levels. Instead, let us know what technology or materials you're after, and we can tell you how the Audi Q7 vs. Volvo XC90 SUVs stack up.
Find Your Dream SUV at Our Dealership
To ask questions about Audi Q7 vs. Volvo XC90 models or to test-drive a Volvo XC90 for sale for yourself, stop by our location in Jacksonville, FL. Our goal is to help you find the SUV of your dreams.
FAQs
Is the Volvo XC90 better than the Audi Q7?
When comparing Audi Q7 vs. Volvo XC90, you have to consider what is most important to you. Audi Q7 specs show that this SUV has greater standard horsepower, but it offers less towing capacity and cargo space and is generally less fuel efficient. To compare the features found in each model or to add the Volvo XC90 Recharge plug-in variant into the mix of options, reach out today.
What is 2023 Volvo XC90 B6 engine?
The B6 powertrain is the more-powerful mild-hybrid option available on the Volvo XC90 SUV. It can help you achieve up to 295 horsepower and 310 pound-feet of torque. It can also accelerate from 0 to 60 mph in 6.4. seconds. Check out our Volvo XC90 deals to get behind the wheel of this impressive vehicle that also comes with an automatic transmission and AWD.
What is different on the 2023 Audi Q7?
The 2023 Audi Q7 now has a standard 261-horsepower four-cylinder engine paired with a 12-volt hybrid system. Last year's made 248 horsepower. The Prestige trim also gained a few new standard features, like remote parking. The Convenience package add-on also gains some new perks. There are also three new colors available: a blue, a silver, and a brown.
Make an Inquiry
* Indicates a required field
---
118 city/22 highway/20 combined city/hwy MPG for 2023 Audi Q7. EPA estimates. Your mileage will vary and depends on several factors including your driving habits and vehicle condition.
2For more information, please visit the official US government source for all fuel economy at www.fueleconomy.gov.
3Anticipated range is according to WLTP and EPA driving cycles and real-world range may vary.