O'Steen Volvo moves away from DOT construction and closer to VW cousin
By Ron P. Whittington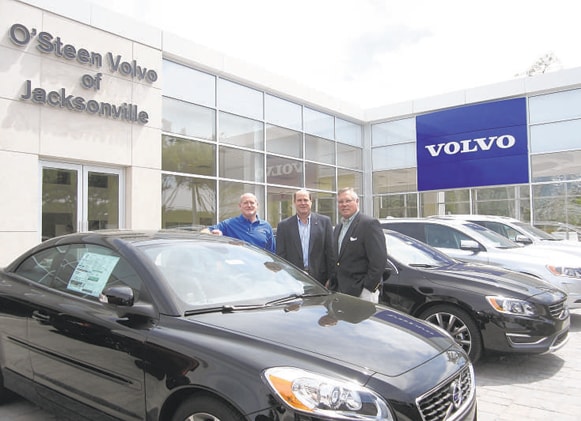 For nearly two decades, the O'Steen family had a presence near downtown Jacksonville. In fact, it was in 1996 when Mark and Tom O'Steen purchased Parrish Volvo and Volkswagen at 2525 Philips Highway. It was then in December 2006 that the O'Steen Automotive Group split the dealership into two separate facilities when O'Steen Volkswagen moved to its brand-new home on auto row south of The Avenues mall on Philips Highway. Today, with the construction of the Federal Department of Transportation's Overland Bridge Project taking place next to its property and completion a long way down the road, the O'Steen Automotive Group has left San Marco for good.
O'Steen Volvo moved over the weekend to its new ultra-modern dealership at 10863 Philips Highway, the former Saturn of the Avenues store. "The DOT project took 50 feet along the back of our property and we lost our display area behind the showroom," O'Steen Automotive Group Vice President and co-owner Mark O'Steen said. "We settled with them a few weeks ago, but the construction is definitely the reason we had to move." With the old location in the rearview mirror, the O'Steens are excited about their $2 million investment. "It's near, it really is," said Mark, inside the spacious showroom that opened Monday. "The employees are so excited and that's neat."
He got an early glimpse of what the new location will mean for business. "It's a great location. We were moving cars all weekend and yesterday [Sunday], we were doing some cleaning, final touches and stuff, and we had four for five customers come to the lot."
Good indication of things to come? "Yes. It's a good indication," Mark replied quickly. "It really is."
Tom O'Steen, co-owner of the automotive group and head of O'Steen Volkswagen, was equally impressed with the Volvo store. "It's awesome; it's absolutely fantastic," Tom said. "Our customers and our employees deserve it - absolutely. It's long-awaited."
Mark's brother, Hal, is also a co-owner and used his background in real estate to find the new site. The group closed on the property December 2012. Hal is also happy with the results of the renovations completed by Crabtree Construction. The architect was Robert Wulbern of Ponte Vedra Beach. "Unbelievable," Hal said Monday. "It turned out much better than we had thought. It really did."
Volvo's relocation also provides a tremendous convenience for employees and customers, according to Tom. O'Steen Volkswagen is located eight tenths of a mile south at 11401 Philips Highway. "It's going to be great thing for our current customers and employees because we associate so much between the different logs," Tom said, noting pre-owned vehicles will get maximum exposure to customers. "It's going to be a tremendous convenience for both stores' customers and our future customers," Tom said.
As a third-generation family in Jacksonville, the owners have some strong personal and professional ties with many of their customers - going back when twin brothers Howard and Harold O'Steen got into the automotive business more than 30 years ago. They have no intention of losing any of them because of their relocation south. O'Steen Volvo will offer valet service to customers downtown and on the Westside as well as other outlying areas such as St. Augustine, Ponte Vedra and north to Brunswick and St. Simons and Jekyll islands.
"We'll take a car to the home and leave it, bring their vehicle to the dealership for service and then take the vehicle back to the customer," Mark O'Steen said. "We also offer a shuttle service that already works very well, along with loaner cars." O'Steen notes that, while it may be further south, the new O'Steen Volvo of Jacksonville will be more easily accessible from Interstate 95 and I-295 beltway and will make it easier for current and potential customers on the Southside, Clay County and the Beaches.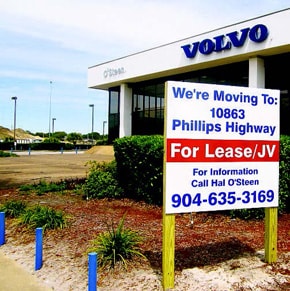 For Harold Samuels, who has purchased vehicles from the O'Steens since 1996, he'll miss the old location. However, he'll travel "whenever he needs to" because of his loyalty to the brand ... and the O'Steen family. "I'll never forget the time me, my wife and three kids were driving down to Disney World and my car broke down around Hastings," he said. "It was mid-July and really hot. I called Mark O'Steen and told him what happened and asked if he could get me a car. He asked, ''For how long?' and I said a week. When we got there [the dealership] later that day, Mark took his hat and keys out of his own car and said, 'Have a great time.'"
Samuels, who works in corporate marketing with WJCT, says it's those type of relationships that will keep customers going to the O'Steen family regardless of their location in town. Although only about 4,000 square feet larger than its original site, Mark expects customers will be impressed with the new dealership, which is, 'as green as we could make it."
"All the lights in the offices and the showroom will be on sensors, and we've shifted our outside lights over the parking area from 1,000-watt halogens to 400-watt induction bulbs, which will make our new facility much more energy-efficient," Mark said. "We've even put a bottle-filler on our water fountain to encourage recycling the plastic water bottles."
Free Wi-Fi will be available not only in the showroom, but also on the lot "so people with smart phones can do their research online as they're looking over their options." On the service side, the new facility will have an air-conditioned maintenance area - unlike its original location, above-ground "scissor-lift" technology in the bays, and other improvements.
"We're also shifting to a team system similar to what NASCAR does, which we believe is going to get our customers in and out of the service department a lot quicker," he said. The O'Steens have seen many changes on the manufacturing side over the last decade, including the sale of the Volvo line by Ford Motor Company to Chinese-owned Geely Automobile Holdings in 2010. However, Volvo headquarters remain in Sweden and all its vehicles continue to be manufactured in Belgium.
Mark said the sale to Geely helped the brand tremendously. "When Ford had Volvo up for sale, they didn't to a lot to promote us," he said. "Geely came in with a lot of cash and put more advertising out there. Volvo's known for safety, but it's a small niche car comapny and we still need some advertising and promotion to keep our name out there and let people know how good, and how safe, our cars are."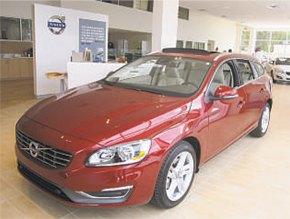 Under Geely, Volvo just came out with its first new model wagon since 2011 - the new 2015 V60 wagon that started arriving in showrooms in February. With an EPA-estimated gas mileage of 25 mpg city and 37 highway, it's considered one of the best in its class. Also, a redesigned XC90 SUV comes out in March of 2015. The XC90 has been a popular model for 10 years that Mark said has "been a great SUV for customers, but it's time for a little body change."
Mark said one of the most-popular Volvo models is the new S60 sports sedan. U.S. News and World Report recently ranked the 2014 S60 seventh out of 24 among upscale midsize cars. With a turbocharged five-cylinder engine, it comes with a standard six-speed automatic transmission that improves acceleration and fuel economy - with the S60 getting an EPA-estimated 21 city and 30 highway.
The XC60 crossover, five-passenger SUV also has been a fast-moving model in the Volvo line. Additionally, the company is shifting all its 2015 models to four-cylinder turbo engines that run on regular gas and offer even better fuel economy. The future looks bright for Volvo and its new Jacksonville dealership. However, the O'Steens will fondly remember 2525 Philips Highway. "For Tom and me, it represents our first venture in owning a car business," Mark said. "The place will always be very special to us."