It's official: When buying a car, women know exactly what they want and don't intend to compromise.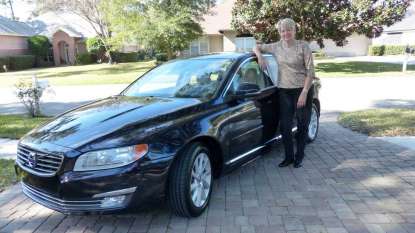 Their No. 1 concern? Safety.
Both dealers and female buyers alike in the greater Jacksonville area agree that safety is the most important piece of the puzzle when putting together the ideal vehicle for a female driver, followed by reliability and overall quality.
"Women's main concern is safety," said Scott Garman, general sales manager of Nimnicht Chevrolet. "They usually don't care where the dipstick is, but they want to know about the airbags, the side-curtain airbags and the crash ratings. Secondary concerns are fuel economy, performance, the cost of maintenance and having a nice-riding car."
Michelle MacDonald, director of the Heart Hospital at Baptist Health, just bought a 2015 Trax, Chevrolet's smallest SUV, at Nimnicht Chevrolet. She was drawn to the vehicle for its safety features, including airbags and side airbags, and the back-up camera that comes standard on all 2015 Trax models.
"I looked for three months and considered 12 dealerships," she said. "My job keeps me very busy, so I asked the dealerships to email or text me information on their cars. Vicky [Morgan, with Nimnicht] was the most helpful. Then I came in for a test-drive and that made up my mind."
In addition to her safety requirements, MacDonald wanted a vehicle that was "sporty and comfortable," as well as having plenty of room for her twin grandchildren, who are four years old.
"It was also important that it not be a gas-guzzler," she said. "Price alone wasn't as important as the value I was getting for the price."
Garman agreed that MacDonald purchased a very good car for the money, and also pointed out the Chevy Traverse and Suburban as his dealership's top-sellers to women.
"Many of the buyers of these vehicles fit the image and profile of the 'soccer mom' who is very involved with her kids' sports and activities," he said. "They not only carry their own kids around, but usually the neighborhood kids, too, so safety, three rows of seating and lots of room for sports equipment are all important."
Doing homework
Jacksonville dealers, including Garman, are very impressed by the amount of research that female buyers do.
"These are very savvy buyers who do their homework," Garman said. "Price is not at the top of the list [of requirements]; it's more important to them to get a vehicle that fits their needs and their purpose in life than what their payment will be."
Garman cited a recent National Automobile Dealers Association statistic that women are involved in more than 80 percent of auto purchases, whether alone or with their husbands, He added that, at Nimnicht Chevrolet, male and female buyers are evenly divided.
Nationally, women are becoming a larger force in the marketplace, as well. In the first four months of 2014, 40 percent of new vehicle registrants were female, up from 37 percent in 2009, according to Edmunds.com. Among younger buyers, women are already outpacing men.
Mark O'Steen, O'Steen Automotive Group vice president and co-owner, says that women make up 55 percent of O'Steen Volvo buyers.
"With the Internet, there is so much information at our fingertips and buyers are much better informed," he said. "Our female customers have a good idea of what they're looking for before they come into the showroom. And we ask certain questions of our clients, too. We ask what they're driving now, what they like about it, and what they would like to change in their next vehicle. That helps us steer them in the right direction."
O'Steen agrees with Garman that safety is the No. 1 requirement of women in a vehicle purchase.
"First, they want the safety features like great visibility, the new safety systems like Park Assist, and they want ease of operation," he said. "Safety, reliability and style are equally important. We sell more XC60s to women. The XC90 was also a top-seller - and will be again when the new model comes out in April."
Trust in dealer
Recent Volvo S80 purchaser Donna Fiedorowicz, senior vice president of Tournament Activation & Outreach for the PGA Tour, felt that vehicle quality and trust in the dealership were just as important as safety.
This is my second S80 from O'Steen Volvo, and when I bought the first one, I did a lot of research, went to every dealership in town and ended up here," she said. "I love the quality of the car; I feel that I'm a defensive driver and a good driver, but with all the distractions today's world offers, if something were to happen, I'd want to have a chance. And I get that with this car."
Fiedorowicz also wanted a smaller, sportier car, which appeals to women across the country, too.
Jeremy Acevedo, an analyst with the car-shopping site Edmunds.com, said that women tend to buy smaller, easier-to-maneuver vehicles like compact and mid-size sedans or crossovers, while men tend toward trucks and larger sedans.
Fiedorowicz was pleased that the S80 offers that smaller size and sporty look along with a lot of interior space.
"I'm tall and there's plenty of room in the S80," she said. "The way I see it, if it's a fun car and has all the safety features, then I know it's for me."
Another big part of her decision was her previous experience with the O'Steen Volvo dealership.
"With O'Steen, I have the trust factor," Fiedorowicz said. "With [general sales manager] Tim Dalton, it's not a transaction, it's a relationship."
Jack Hanania, president and CEO of the Hanania Automotive Group, also feels that working closely with female car buyers is a vital part of the automotive industry.
"We're excited to have more female buyers," he said. "They're delightful to deal with because they come prepared. By the time we meet them, they've done their research. They expect to be treated intelligently and to have their questions answered. And, if you don't answer every question completely, in every detail, you can forget about that sale."
Hanania shares the opinion of most Jacksonville area dealers that safety is a female buyer's primary concern, followed by the cost of ownership - price, fuel economy, maintenance costs - and style.
"Women enjoy a good-looking vehicle - they're fashionable and like an attractive car design, too," he said. "SUVs and CUVs do well with women, especially those who are married and have children. Convertibles sell well with single women."
On a national level, TrueCar.com, an auto-buying site that regularly surveys buyers, has found that exterior styling and overall value are important to both genders. But, while style and performance are most important to men, safety and fuel economy rank higher with women.
According to Hanania, the Acura MDX is one of his top-sellers with women, as is the entire Volkswagen line. He says the Audi line also does quite well with female buyers, especially the A3 and Q3 because of their appealing features and price range.
"Women have the information they need on the cars that they're interested in; they know what they want," he said. "Which may be why women make most of the car-buying decisions, either on their own or with a spouse or significant other."
Material from Associated Press was used in this story. Original article.