WINTER IS NOT to be trifled with. The Scandinavians know this.
I'm thinking of those breathless predawn dashes to the car, the ecstasy of fumbling for the key fob, starting the engine while frantically pushing the seat-heater button. Ohpleaseohpleaseohplease...so...cold. You sit, butt clenched in chilled dismay, until at last the seat heaters warm their marks.
Safety-conscious Volvo understands that sort of thing isn't good for people, especially Southerners. Now, thanks to a bit of connectivity called Volvo On Call, smartphone users will be able to start their car remotely, and that includes the blessed seat heaters (if you left them on before you switched off). The optional Climate Package ($1,550 on the 2015.5 V60 T6 R-Design, $49,275, as tested) reflects Scandinavians' mad respect for winter: heated windshield and wiper nozzles, heated steering wheel, front-seat and even rear-seat heaters that are compatible with the two-stage integrated child booster seats. This car is wired like hunting socks.
Fire up the app and in the five minutes it takes to troop from the frozen tundra of Lambeau Field to the parking lot, your car can be warm and free of ice. The news isn't all good. You are still in Green Bay.
Volvo On Call is the broader telematics package that includes Sensus Connect, with in-vehicle Wi-Fi, internet-enabled GPS, and app support (Pandora, Yelp, Park and Pay), all in a modest center-mounted TFT display, with a nicely serious architectural-style typography much in keeping with Nordic design. The instrument cluster is likewise a TFT with animated gauge graphics.
Most of these IT functions are standard connectivity fare these days, widely available in the premium and mass-market segment in one form or another. The key here is that, for once, Volvo telematics seem abreast of the competitive curve.
Side note: Volvo's app suite includes an interesting something called Glympse, a vehicle-location app designed so "the people in your life will never worry where you are and vice versa." Uh-huh. No possible mischief could ever come of that, unless Ollie follows Astrid to Theo's house, or vice versa.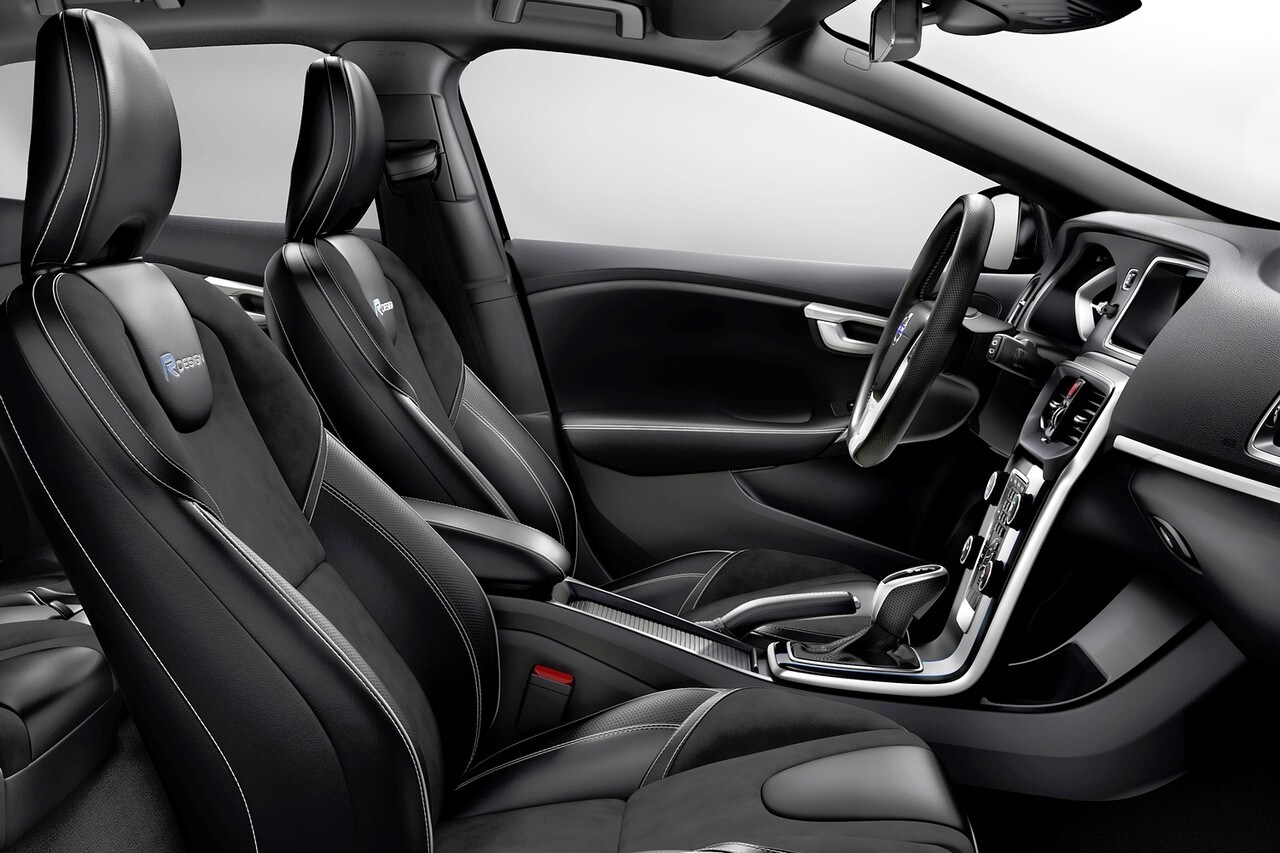 Every auto writer at some point writes a column where he or she expresses astonishment, real bafflement, as to why all cars aren't sport wagons. This is mine. What the hell, people? A sport wagon is the perfect type of automobile, the most versatile, the least compromised. Look at this specimen: a 2015.5 Volvo V60 T6 R-Design. Four big side doors and a top-hinged rear hatch. An SUV-like 43.8 cubic feet of rear cargo space and five seats, with a 40-20-40 split rear-seat back that folds nearly flat.
Zero to 60 mph in 5 seconds or so-emphatically quick, to be sure-but also capable of prodigious acts of efficiency: 28 mpg on the highway. It is also quite refined, especially in terms of wind noise and cabin isolation. A wagon doesn't have to brush aside quite so much air as a crossover or SUV.
On top of that, our test car-with the 325-hp/354 pound-feet, transversely mounted in-line six-offers a 3,500-pound towing capacity. That is an insane amount of function poured into the slinky cocktail dress of a sport estate.
And, as a bonus, this wagon's and any wagon's center of gravity-roughly correlated to its roof height-is appreciably lower than that of any comparable crossover. Wagons feel more planted to the road when driven hard, because they are.
So why do otherwise practical Americans prefer crossovers to wagons? I think it's because we never do actually drive them hard.
Speaking of staying planted, the R-Design package includes these astonishing front bucket seats, luxuriantly soft and dramatically bolstered speed couches that remind me of the seats in the old Saab 9000 Turbo, God rest it.
The great thing about sport wagons is that the very thing that makes them useful-the extended cabin, the lengthened roofline terminating in an integrated roof lip spoiler-also makes them more aerodynamically efficient than sedans, all else being even, and beautiful. What a lovely arched back the Volvo has, a roofline smooth and curved like an archer's bow. The windshield rake is practically recumbent.
This is a brand again fully in control of its design language, and just about every millimeter of the Volvo looks preordained, as the shoulder lines and swage lines peel back in waves of aerodynamic coherence from the front grille opening. The oversized-for-safety vertical taillamps, glowing with light bars, beautifully frame the hatch's rear glass. The R-Design's grille and frame are tastefully blacked out, with the Volvo emblem and slash levitating in the center.
Why aren't wagons more popular in the U.S.? It helps to culturally deconstruct a bit: The estate form-what we Yanks call a wagon-is stitched into the European imagination of mobility, with romantic notions of holiday excursions on the continent and open itineraries. Estates are also a bit more subtle, a bit less showy. I myself am smitten by the self-evident practicality of an Alfa Romeo 156 Sport wagon or perhaps a Ferrari FF.
The new V60 offers three engine options: the T5 Drive-E, with a 2.0-liter, 240-hp in-line four, paired with an eight-speed transmission and front-wheel drive; the T5, with an oh-so-Volvo in-line five cylinder and all all-wheel drive; and the T6, with its piston-clubbing, turbo-boosted Viking six producing 354 pound-feet of torque at 3,000 rpm, with traction abetted by AWD. The T6's output requires the services of a heavier-duty six-speed Geartronic automatic with paddle shifters behind the steering wheel, if you care to use them.
As commanded in Leviticus, all AWD Volvos will use the Haldex all-wheel drive system; the V60 R-Design's powertrain algorithms seem to have been tweaked to make the car brighter at the throttle, skittish even, and quicker to shift emphatic amounts of torque to the rear wheels, as needed to adjust pace and cornering attitude.
Should Volvo dealers somehow beguile shoppers to test-drive the V60 T6, they are going to saddle up one surprisingly quick car. Plant your right snow boot and the little wagon digs in with all four. The transmission's full-power shifts are a bit more deliberate than is usual with modern mechatronic automatics, but there's no disputing the car's rev-loving heart. The first two gear changes check through with authority.
But, you know, with 325 horsepower, 3,790-pound curb weight, summer tires and all-wheel drive, you would figure stomp-on-it acceleration would be this pony's one trick. Actually, the V60 T6 car is a courser: athletic, pointable, frisky but tamable, with firmly weighted and precise electric-assist steering, and really admirable overall balance, considering the nose-heavy weight distribution. You'd figure this thing would push like a pig and yet it seldom does.
In short, a fantastic car, hugely practical, dead sexy, super fun, a class act all the way.
But will Americans buy it? That would have to be a very cold day.
Original Story: source