2022 Volvo C40 Interior & Exterior Colors & Dimensions Guide

Reserve Your Volvo C40 Now
Jump in and enjoy the agile-yet-spacious Volvo C40 dimensions, and express yourself with our range of Volvo C40 colors. At O'Steen Volvo Cars of Jacksonville, this latest all-electric addition to the new Volvo lineup has taken our breath away. Its eco-friendly upholstery and cutting-edge features are part of its appeal, the smooth acceleration is another, and its color options and dimensions are another.
Learn more about this vehicle below, and visit our Jacksonville Volvo cars dealership today to test drive a Volvo C40 Recharge.
Volvo C40 Exterior Colors
The Volvo C40 colors begin on the outside with a superbly tailored mix of paint options. They're inspired by untouched nature, our modern human world, and automotive staples. To complement the uniquely sporty design, you'll find the following Volvo C40 exterior color options:

Black Stone
This option is classically sleek with just the right amount of gloss mixed in. A Black Stone Volvo C40 makes its mark with a subtle shine, lacquer-like smoothness, and an imposing outline that looks great all day and night.

Onyx Black
An Onyx Black Volvo C40 stirs together a gem-like sparkle and classic black tones. Gaze upon it in sunlight to see its shine in action; look again in low light conditions to see a stylish silhouette.

Thunder Grey
Like an approaching cumulonimbus, a Thunder Grey Volvo C40 announces itself with a calm shade of dark gray. Once it arrives, a bold, striking mix of deeper gray and blue tones will engulf your vision.

Silver Dawn
Especially vibrant among the Volvo C40 colors, a Silver Dawn Volvo C40 imitates the dynamic nature of sunrise. At first, a glimmer of yellow appears. Then, a blue hint makes way for a pure precious metal hue.
Crystal White
As smooth as polished quartz, a Crystal White Volvo C40 enters the stage with pure-white pearlescence that'll stun every spectator. It's cool, calm, and composed, much like this model's driving experience.

Sage Green
Grayish green and sparkling with a premium appeal, Sage Green stands out amongst the Volvo C40 colors for its forest-inspired hues. Blend in with nature and stand out in the city; a Sage Green Volvo C40 does both.

Fjord Blue
With a color straight out of Sweden's picturesque landscapes, a Fjord Blue Volvo C40 combines deep blue river tones with a hint of forest-green hues. The dynamically stunning result must be appreciated in person.

Fusion Red
Classically sporty yet modern in its elegance, a Fusion Red Volvo C40 makes a strong impression with its bold crimson hue. Under the sun, though, a touch of sophisticated orange comes through.
Visit our showroom today for a closer look at the available Volvo C40 colors.
Volvo C40 Interior Colors
The Volvo C40 is a special member of our new Volvo specials for more than just those exterior colors. In particular, the Volvo C40 interior colors include:
Charcoal
This hue evokes a classic feeling of comfort. Charcoal is the standard interior color option and can also be applied to Fusion Microtech Vinyl or Connect Suede Textile seat upholstery.

Fjord Blue
Making its way from the exterior Volvo C40 colors and into the cabin, a Fjord Blue Volvo C40 interior is available in conjunction with Charcoal upholstery as a wonderfully stylish, exclusively premium interior color option.

Midnight Zinc
Available as a premium seat color when combined with a Charcoal interior, Midnight Zinc Tailored Wool Blend upholstery is the sustainable, high-end option that surrounds you with bright, welcoming tones.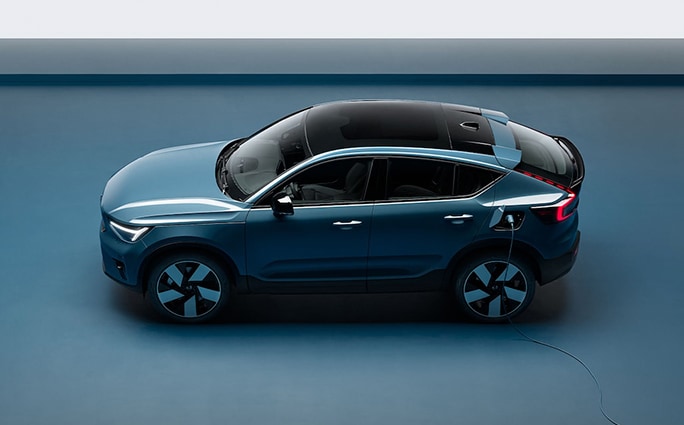 Volvo C40 Exterior Dimensions
The Volvo C40 dimensions will be just as exciting as the colors. Why? The measurements combine uncompromising city agility with strong road trip spaciousness.
Starting with the chassis, a Volvo C40 rides on a 106.4-inch long wheelbase for sharp handling. Atop that wheelbase, the Volvo C40 dimensions are as follows:
174.8 inches long, minimizing overhangs while maximizing interior space
80.1 inches wide, including its mirrors, skirting through tight streets and parking spots with ease
62.8 inches tall, providing great headroom without compromising lateral driving stability
Embark on a Volvo C40 size comparison, and you'll find that the Volvo XC40 shares its wheelbase and width. However, the Volvo XC40 is taller while the Volvo C40 is longer. Overall, the comparison boils down to coupe-roof sleekness or traditional SUV stature.
Volvo C40 Exterior Dimensions

Length

174.8 in

Height

62.8 in

Width

73.7 in

Width including folded-out door mirrors

80.1 in

Width including folded-in door mirrors

75.2 in
Volvo C40 Interior Dimensions
Volvo C40 dimensions prove their thoughtful nature on the inside. Five occupants can enjoy this electric SUV's 402 horsepower output in spacious comfort, and you'll be able to bring all your gear along with ease.
First, the Volvo C40 cargo space allows for a maximum storage capacity of 48.7 cubic feet. If that isn't enough, the Volvo C40 can carry extra toys or cargo by towing up to 2,000 pounds.1
For the front-seat Volvo C40 passenger room, you'll get 39.4 inches of headroom, 40.9 inches of legroom, and 54.7 inches of hip room. For passengers in the rear seats, the Volvo C40 dimensions provide ample stretching room, namely 36.7 inches of headroom, 36.1 inches of legroom, and 54.6 inches of hip room.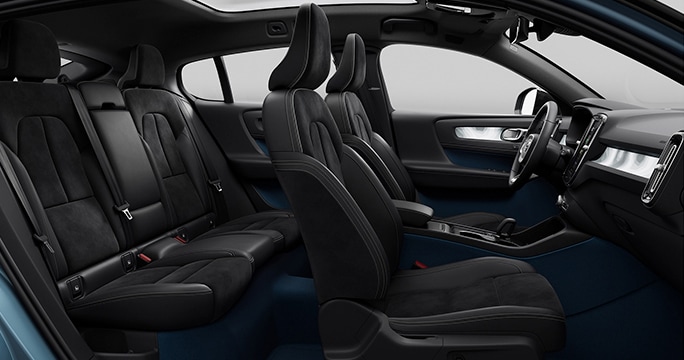 Volvo C40 Interior Dimensions

# of Passengers:

5

Head room front

56.6 in

Head room rear

36.6 in

Shoulder room front

56.6 in

Shoulder room rear

56.2 in

Leg room front

40.9 in

Leg room rear

36.1 in

Hip room front

54.7 in

Hip room rear

54.6 in

Cargo Capacity

17.3 cu ft
Learn More About the Volvo C40 at O'Steen Volvo Cars of Jacksonville
Interested in seeing all the wonderful benefits of the Volvo C40? Our Volvo cars dealership has you covered. Learn more about the Volvo C40 engine specs and features on our website, and visit us to explore a Volvo C40 in person.
---
1When properly equipped.