It's hard to believe now in this age of lane-departure warning systems and radar-guided automatic braking, but once upon a time, safety in cars was kind of an afterthought. Volvo built their reputation on selling safer cars, but they gave away the most important safety device ever invented: the three-point seat belt.
UK autos website Arnold Clark took a look back at what is now the universal modern seat belt, created by Volvo engineer Nils Bohlin in 1959. At that time, seat belts were simple two-point waist restraints, and in crashes they often did more harm than good.
Bohlin was a former Saab aviation engineer who worked on ejector seats. He invented a seat belt that fit over the driver's torso as well as his or her lap. The design was first launched in the Nordic market in 1959 on the Volvo Amazon and Volvo PV544, pictured to the right. It made its way to the U.S. in 1963.
It was a revolutionary invention, and one that probably could have netted Volvo a fortune on patents alone.
But Volvo didn't do that ? they gave the patent away because they decided it was too important to keep to themselves. From the story:
The reason the three-point seatbelt is so widely adopted is actually because Volvo opened up the patent so that any car manufacturer could use it in their design. They decided that the invention was so significant, it had more value as a free life saving tool than something to profit from.
Volvo's managing director Alan Dessell is quoted as saying: "The decision to release the three-point seat belt patent was visionary and in line with Volvo's guiding principle of safety."
Bohlin continued to work for Volvo until 1985, pushing for continued safety improvements like side impact protection and rear seat belts. He died in 2002, a few years after receiving a gold medal from the Royal Swedish Academy of Engineering Science and getting inducted into the Automotive Hall of Fame. Four years ago, Volvo said more than a million people worldwide have been saved by his seatbelt design.
So if you've ever had your life saved by a three-point seat belt, you have Bohlin to thank for it, and maybe also Volvo for putting human lives ahead of corporate profits.
We take it for granted. In fact, it's so habitual that we probably don't think about it at all. We get into our cars, strap on our Volvo seat belt, and back out of our driveways - never stopping to wonder: who invented the seat belt?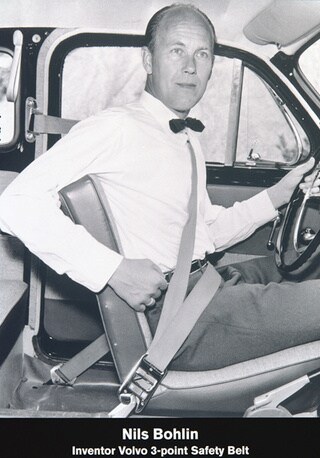 The basic 3-point seat belt in all our cars is a lifesaving safety feature that is so commonplace that many manufacturers don't even mention it on their list of standard safety features. Why would they? It's assumed that every new car will come with a seat belt. Certainly, all of our new Volvo cars for sale have a Volvo seat belt. And with good reason. Volvo Cars sold the first car with a seat belt in 1959. Which automaker introduced the 3-point seat belt, you ask? Volvo Cars.
What Car Manufacturer Gave Away Their Patent for the Seat Belt in the Interest of Saving Lives?
But if Volvo Cars invented this revolutionary piece of safety equipment, why are there seat belts in every car sold in America? Wouldn't Volvo Cars have a Volvo seat belt patent? They would… if they wanted to keep it for themselves. But Volvo Cars realized that the Volvo seat belt could save so many lives that it should be in all cars. So, Volvo Cars made the seat belt available to everybody.
Our Volvo dealer in Jacksonville is proud of the brand's history and admires the selfless act of making the Volvo seat belt available to everybody. When you stop by our dealership for a test drive of the new Volvo XC90 SUV and click on your seat belt, take a moment to consider what this invention did for the automobile and your safe transportation around the world.
Volvo Cars Invented the Seat Belt
New cars today are equipped with advanced airbag systems and come loaded with suites of driver-assist safety features that help us keep our eyes on the road and hands on the wheel, but none of these safety features comes close to saving as many lives as the Volvo seat belt. It is perhaps the most important automotive safety feature ever invented. And we use it every time we slide into our new Volvo V60 wagon.
Which automaker introduced the 3-point seat belt?
On August 13, 1959, Volvo Cars made automotive history when they sold the first car equipped with today's three-point-belt system to a customer in Sweden. Volvo Cars invented the seat belt, then quickly made their invention available to the world in the interest of saving lives. The Volvo seat belt is perhaps the greatest automotive safety feature ever invented when you consider the number of lives it has saved.
What year did cars require seat belts?
Even though Volvo Cars invented the seat belt in 1959, it wasn't until 1968 that seat belts were mandatory in all automobiles sold in the United States. The Volvo seat belt patent is available for anybody to use because of the number of lives it can save. In 2019, the Volvo seat belt turned 60 years old and was attributed to saving over one million lives.
How often should seat belts be replaced?
Since there is no convenient way to tell how well an older seat belt will perform in a crash, it's recommended to have the seat belts in your vehicle inspected every 10-15 years, then replaced if necessary. For Volvo seat belt replacement, get in touch with our Volvo parts store.
How many lives do seat belts save?
In 2019, nearly half of all deaths resulting from a crash in passenger vehicles were unrestrained. Since the invention of the Volvo seat belt in 1959, the 3-point seat belt is credited with having saved more than one million lives during the last 60 years. And that number keeps going up. From 1975 through to 2017, seat belts have saved an estimated 374,196 lives.
Leading Automotive Safety
When shopping for your next vehicle, trust the brand that's been at the vanguard of automotive safety since the invention of the seat belt. If you're looking for lease offers on new SUVs to keep your family safe, stop by our Volvo dealership in Jacksonville. The O'Steen Volvo Cars team will point out all the ways that Volvo Cars is still working to help you protect your most precious cargo.
---