Volvo XC40 Recharge Vs. Tesla Model Y Comparison

If you're determined to find an SUV that will carry your crew into tomorrow, we understand why you're interested in a Volvo XC40 Recharge vs. Tesla Model Y comparison. This dynamic duo is composed of two of the most brilliant clean vehicles we've seen to date. Explore how you and your most precious passengers can push forward in a car capable of creating a better tomorrow inside and outside the cabin.
XC40 Recharge vs. Model Y Pricing & Trims
Before we can pull the Tesla Y vs. Volvo XC40 apart, we have to display all the ways these amazing cars come in. There are two trims available for the Tesla Model Y, and that comes down to two setups that share a lot of the same core characteristics. Tesla drivers will choose between the Performance setup and the Long Range AWD trims.
The Volvo XC40 Recharge is available in a conventional car setup, as is the Volvo XC60.
Volvo XC40 Recharge vs. Tesla Model Y Features
Looking for futuristic features? You'll find them in the 2021 Volvo XC40 Recharge vs. Tesla Model Y SUV models. These cabins have both outstanding automated driving assistance systems that make high-traffic situations less worrisome and navigation a sensation.
Driving the Volvo XC40 is a breeze. As soon as you sit down, you'll be able to select your gear and go without even the extra step of a start button. Power yourself forward in a cabin free of clutter that's able to show you the full perimeter of your car through multiple cameras and smartphone access. You'll be able to easily scroll through navigation directions, playlists, and podcasts without taking your focus from where it matters most.
Tesla Model Y vs. Volvo XC40 Recharge Interior
Comfort reigns supreme in both the Volvo XC40 Electric vs. Tesla Model Y. These comfortable cabins allow families to reach out and burst through limits on travel because long trips no longer make for a long day. Premium materials are used for the seats, which can be easily adjusted to fit in your ideal combination of fellow passengers and luggage, plants, or small furniture.
Want an interior that's dressed to impress but in a smaller sedan-sized frame? Make sure you're tuned in for the Volvo C40 Electric release; you won't want to miss it.
Volvo XC40 Recharge vs. Tesla Model Y Performance & Range
Looking for range? You've found it in the Volvo XC40 Recharge vs. Tesla Model Y. The Long Range AWD version of the Tesla Y will take you an EPA-estimated 326 miles, while the Performance trim pushes to the approximate limits of 303 miles.
The Volvo XC40 Recharge has up to 208 miles of range1 and can charge up to 80% in as quickly as 40 minutes.1 Start every morning on a full tank in a car that can fuel all the way back up to her fullest capabilities in the same amount of time it takes to do a load of laundry.
FAQs About the Volvo XC40 Recharge vs. Tesla Model Y
At our Volvo Cars dealership in Jacksonville, FL, our showroom staff fields all kinds of questions from eager SUV drivers that want to get their hands on the next big model, which is ready to push the boundaries of conventional car concepts. Here are a few questions they're receiving about the Tesla Y vs. Volvo XC40. Our team also took the time to compare the Volvo Momentum vs. Inscription as well.
What is the range of the Volvo XC40 Recharge?
The Volvo XC40 electric SUV has up to 208 miles of range,1 so you'll be able to go quite a long way without having to stop and refuel. When you do, you'll find a nationwide network of rapid chargers pretty much everywhere you go, and you'll really enjoy having a car that can easily and quickly recharge. She's a whole new world of electric elegance.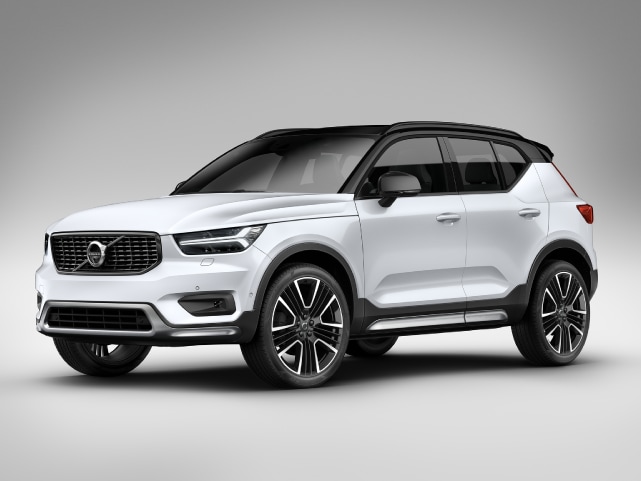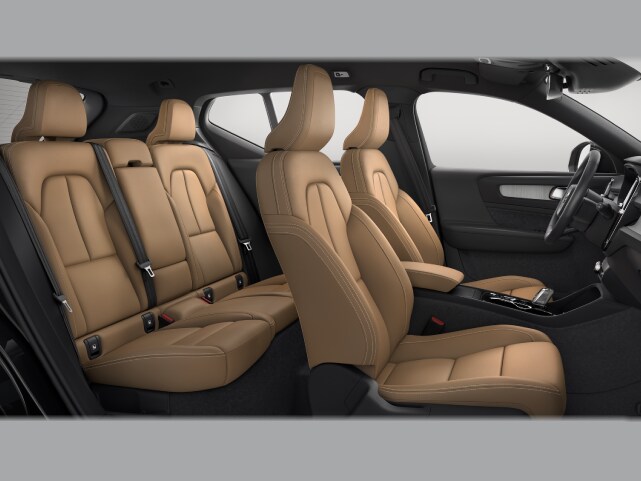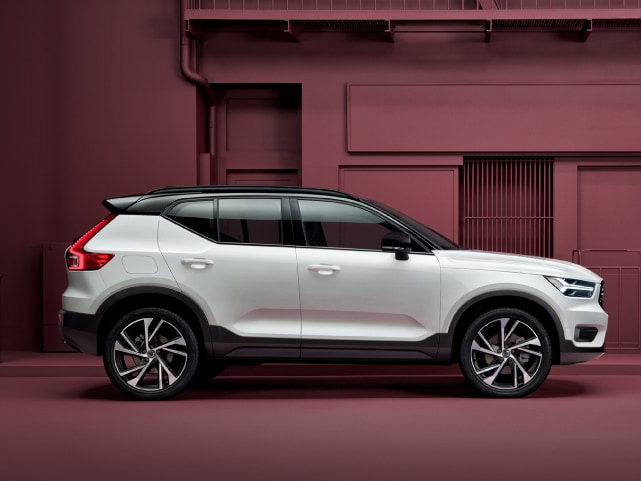 What charger does the Model Y come with?
If you choose to sign up for a Tesla Model Y, you'll receive an adapter for a 110-volt outlet (NEMA 5-15). This way, you have a way to begin every morning on a full "tank," free to fly by the gas station without as much as a momentary glance. By purchasing or leasing either of these stalwart SUV models, you're unlocking a future free of bowing to the ups and downs of stopping for fossil fuel. Instead, you'll go forth fully charged in a car that only makes a quick stop for snacks at places others hook their cars up at.
Does the Tesla Model Y qualify for federal tax credit?*
It is believed by online car experts that Tesla cars bought after May 24, 2021, would be retroactively eligible for a tax credit of $7,500 on 2021 tax returns. Furthermore, Tesla cars bought after the date of December 31, 2021, would be eligible for a $10,000 tax credit (exceptions apply) on 2022 tax returns. Volvo Cars models also qualify for federal tax credits and are a part of the total commitment of Volvo Cars to a cleaner and safer world. The entire Volvo lineup embraces electricity more with each passing year, and you can expect all that comes with going electric to continue to improve under the Volvo Cars umbrella.
Which SUV Should You Buy? Tesla Y vs. Volvo XC40
We hope you're ready for an electric overtaking of the SUV segment, where power was once thought to be only available from the most inefficient vehicles. The old way is losing ground, thanks to cars like the Volvo XC40 Recharge vs. Tesla Model Y that prove power can come from an engine that doesn't release harmful emissions into the air.
Come see how the stars of the show in our full and diverse new Volvo XC40 inventory stack up against similar models at our dealership today. Our team can't wait to welcome you in and show you all there is to discover behind the wheel of the modern marvels in our SUV lineup.
1This is an electric vehicle. Since electricity is not measured in gallons, a conversion factor is used to translate the fuel economy into miles per gallon of gasoline equivalent (MPGe). EPA-estimated 85 city/72 highway/ 79 combined MPGe. Use for comparison purposes only. Your MPGe will vary for many reasons, including but not limited to, driving conditions, how and where you drive, how you maintain your vehicle battery-package/condition, and other factors. For more information, including information on MPGe, see www.fueleconomy.gov.
*At the time of writing. Incentives are subject to change without notice and are intended for informational purposes only. Please note that this is not tax advice. Consult with your tax adviser for further details and to determine eligibility.
---
Contact Us
* Indicates a required field